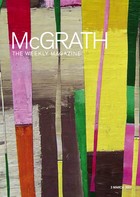 Front Cover Image. Mcgrath Real Estate Magazine (Issue #5/2006)

(Updated: 11/02/2014)


Brendon Mogg is a successful Sydney painter with numerous solo exhibitions whose paintings are held in private and corporate collections worldwide. Mogg's highly textural paintings have a sensuous, tactile quality which evocatively capture the vibrancy and development of the Australian landscape. These paintings are often in high-key & slightly blended palettes to reflect his environment. He works in a range of styles to create large format, abstract paintings in primarily oil. Using a technique perfected over the last 25 years, Mogg builds up thick layers of oil paint using only varied sized cardboard pieces which allows the medium to fall gracefully from the card to the canvas. His latest style of art is a collage technique using previous geometric oil paintings, these paintings are then cut with formula and re-placed and collaged onto new canvases. The technique was established in the later part of 2007 and again has brought new crowds and followers to Brendon's unique work.

In a period of 30 years, Brendon Mogg has exhibited in over 20 Solo Exhibitions, 50 Group Artists Exhibitions and 12 Art Fairs & Expo's. These exhibitions and Art Fairs have been both national and International. He has been a winner of many Australian Art Prizes.

A full comprehensive C.V will be issued upon purchase of any artwork.

Qualifications
1993-94 Associate Diploma in Fine Arts


Collections
Corporate Collections in Australia, Switzerland, Spain, USA & Hong Kong, Tokyo, Singapore, People's Republic of China.
Private Collections in Australia, New Zealand, UK, USA, Canada, Switzerland, Paris, Spain (Including the Spanish Royal Family, 2003), Peolpes Republic of China, Hong Kong, Singapore, Doha, Dubai & Japan.


Publications

Belle Magazine
InStyle Magazine
Harpers Bazaar
LOOK Magazine
INSIDE OUT Magazine
Sydney Morning Herald~The (Sydney) Magazine.
The Sunday Telegraph Magazine
Marie Claire (News & Events)
Allens Arthur Robinson Website 2006
Sydney Theatre Company Newsletter
Mcgrath Real Estate Magazine (Front cover with Artwork)
Artist Feature for Gaffer Studio Gallery, Hong Kong-The China Post(19/04/08)
Modern Home Magazine
Home Design Magazine